Repetitive yet time-consuming tasks are a part of every field service operation's daily routine. Whether you're overseeing the maintenance and repair of your company fleet or providing customer support for an industrial product, there is always something that needs to be done to keep things running smoothly. But what if we told you that you could automate some of these processes? What if we told you that by using technology, you could reduce costs, increase productivity, and improve quality? Well, this is precisely what field service automation can do for you.
With the best field service automation software, you can streamline your business processes while improving efficiency and accuracy.
Please note, however, that there are tons of solutions on the market, each with unique features, benefits, and drawbacks. So, it may be challenging to find the right solution for your specific business needs. This guide will help you get started by providing an overview of field service automation and critical considerations to keep in mind when choosing a solution.
What is Field Service Automation?
Field service automation refers to any system designed to make workflows more efficient and effective. In other words, it is a set of tools that allow field technicians to perform their jobs faster, easier, and more accurately than they would otherwise.
It aims to eliminate manual data entry, decrease errors, and speed up the process of completing work orders. It also helps ensure that all relevant information is captured during the course of the job so that it can be easily accessed later.
Why Should Your Business Use It?
Here are some top reasons you should consider implementing field service automation into your operations if you haven't already:
Reduce Costs: By automating certain parts of your workflow, you can save money on labor costs. For example, many companies use field service automation to manage repairs and preventative maintenance scheduling. Instead of having a technician manually enter the date and time of a scheduled visit, the system automatically generates a schedule based on the current workload.
Increase Productivity: When employees have less downtime between assignments, they tend to spend more time working instead of waiting for new projects. Field service automation allows them to focus on the next task without worrying about whether they'll have another assignment soon.
Improve Quality: Field service automation provides real-time visibility into the status of jobs. If a problem arises, the system can immediately alert the appropriate team member. This allows you to identify issues quickly before they become major problems.
Empower Field Service Technicians: Field service automation empowers technicians to complete tasks more efficiently and effectively. They no longer need to rely on paper forms or spreadsheets to capture critical details about the job. Instead, the system does this for them.

Key Considerations When Choosing a Field Service Automation Solution
Before deciding which software to implement, you must confirm that the tool in question ticks all the boxes regarding features and functionalities. The section below highlights some of the most critical factors when choosing a field service automation solution.
Data Capture
Data capture is one of the most critical aspects of field service automation because it determines how much information is available for future reference. Some systems only provide basic data capture capabilities, while others offer comprehensive functionality. Naturally, you want to choose a solution that provides as much flexibility as possible.
No-Code Workflow Automation
No-code workflow automation means no programming is required to create custom workflows. Instead, you simply drag and drop elements onto an interface to build the desired flow. This approach makes it easy to customize existing processes and add additional steps where needed. And the reward? You can automate the entire field service operations, eliminate manual errors, and increase efficiency.
Reporting Capabilities
Reporting is also an essential aspect of any field service automation solution. It helps you analyze the effectiveness of your business processes and determine areas for improvement. Ideally, you want a reporting feature that lets you view reports by specific criteria such as customer name, location, type of equipment, etc.
Ability to Automate All Core Functions of Field Service Ops
The best field service solution should be able to automate all primary functions of field service operations. These include asset management, inspections, job management/scheduling, order processing, billing, invoicing, and more. But that's not all; you also want to ensure that the solution includes advanced features like mobile access, remote monitoring, and predictive analytics.
Drag and Drop Workflow Builder
A good field service automation solution will have a visual workflow builder that enables users to easily design their own workflows without having to code anything. With this capability, you can easily create complex workflows and save time by eliminating the need to write lengthy scripts.
Mobile Accessibility
Mobile accessibility refers to the ability to use a mobile device (such as a smartphone) to perform various tasks related to field service operations. For example, you might want to send alerts to field technicians via text message if they're running late for a scheduled appointment. Or you could allow them to check inventory levels remotely from anywhere at any time.
Gruntify is Your No.1 Rated Field Service Automation Solution!
Gruntify is a cloud-based field service automation platform that aims to help companies streamline their field service processes. It provides a single integration point for all core functions of field service operations, including asset management, inspection scheduling, job management/scaling, order processing, billing and invoicing, and mobile accessibility.
With Gruntify, you'll get:
A powerful yet simple user experience
The ability to integrate multiple systems into one unified platform
An intuitive drag and drop workflow builder
Advanced reporting capabilities
Remote monitoring and predictive analytics
But that's just the tip of the iceberg; our highly responsive customer support team is always available to answer questions or provide assistance when you run into problems. So whether you're looking for a new field service automation tool or are ready to upgrade your current system, we'd love to hear from you.
Contact us today to learn more about how Gruntify can help you improve your field service operations. Better still, start your 14-day free trial to see Gruntify live in action!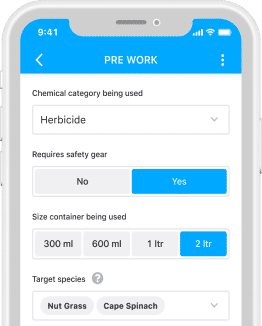 Digitize, integrate & automate your field operations with ease. Buy 9 and get 3 extra months free.