Maintenance management can be challenging, especially without the right technology to support your operations. You have to ensure equipment is running seamlessly, maintenance tasks are performed on time, and the company runs with minimal downtime. Things become even more challenging when you have to accomplish all these needs with a limited budget. This is where the benefits of CMMS software come in.
It's, therefore, not surprising that maintenance managers implement CMMS software solutions to help them manage all aspects of maintenance activities and practices.
With a well-established CMMS, you can achieve:
Reduced reactive maintenance
Limited equipment downtime
Enhanced productivity and
Reduced part spend
So what is CMMS software, and how does it work?
What is CMMS Software?
A computerized maintenance management system (CMMS) is a software solution that helps asset-intensive businesses maintain a data repository for automating and managing tasks, tracking work orders, centralizing maintenance information, and facilitating processes to enhance efficiency. 
CMMS software helps organizations perform maintenance on property, assets, and equipment. It allows them to track assigned and completed tasks, help maintenance personnel perform more effectively, and generates status reports to help organizational management make more informed business decisions across maintenance activities while optimizing the availability and utilization of physical equipment, communications, machinery, plant infrastructure, as well as other assets.
With CMMS, it's easy to access, monitor, and analyze maintenance activities to ensure optimized operation. It allows teams and departments to align maintenance activities and practices with overall business objectives to achieve dependable and sustainable operational stability.
How Does CMMS Software Work?
The system works by collecting and tracking all essential machine data and pools the information in a centralized digital spot (CMMS). It then analyzes the information to eliminate paperwork, enhance communication, streamline operations and schedule preventative maintenance tasks.
Any individual with permission can access all organizational maintenance information in real-time from any device with access to the internet.
For example, maintenance managers use the CMMS to get the right assets with the right work orders scheduled for the maintenance team. Plus, the CMMS may help submit reactive work through the work requests system. This lets your maintenance team know when something is wrong and can provide immediate feedback on who is facing the breakdown.
Technicians and maintenance personnel also use CMMS to access and complete work orders while physically out at the equipment. They can also auto-schedule preventative maintenance tasks and check for signs of risk that may affect work schedules.
Maintenance personnel can also access their complete list of work orders as well as past work orders and manuals, document what they did, communicate with each other, etc., to save time in preparation or to reduce repair cycles. The software then updates the central database at the end of the task with the progress made. The information becomes instantly available for team members or managers to view for future reference and audit tracking. And since the data is stored on the cloud, any database changes are updated for everyone in real time. For example, if a technician completes a work order, the maintenance manager will immediately see the status change to the work order.
In the end, a CMMS is a centralized database, and information within supports various functions across different maintenance teams.
Key CMMS Features to Look For
CMMS software all come with a very similar set of features. The difference lies in how your business will implement and utilize the features. Therefore, the features must be easy to use and intuitive to avoid failures.
Maintenance management software is currently used in virtually every business industry that depends on its critical equipment and facility to deliver its core functions. But to ensure you get a platform with all the CMMS software features your organization needs, here is a list of CMMS software requirements to look for during your selection process:
Asset Management
Job or Work Order Management
Request Management
Inventory Management
Equipment Management
Accreditation or Skill Management
User & Labor Management
Vendor Management
Reporting
While features continue to change and innovate, key CMMS functionality developed before remains a critical backbone of any system.
It is hard to describe what a good user experience looks like. Nonetheless, it's crucial to go through the key features any modern CMMS offers to know what to expect.

Benefits of Using a CMMS Software
There are several efficiencies and lifecycle advantages of implementing CMMS software. Overall, it enables teams to align their maintenance activities and practices with other departments and overall business objectives. With a system that enables cross-departmental data sharing, everyone's job becomes more efficient.
Some top benefits of using CMMS software include:
Workflow Visibility and Workforce Management
The CMMS allows managers and teams to visualize work orders through dashboards and reports allowing every worker to assess the current work order status and improve completion rates. Managers and maintenance teams can also quickly identify where an asset is, what parts are required and who needs to do what work and when. This way, businesses can get tasks completed in less time with real-time progress.
Managing Mobile Workforce
Managing field workers can be difficult and costly. However, CMMS software allows you to deploy remote teams with advanced mobility, connectivity, blockchain, and augmented reality for workers who come to the office less frequently. CMMS can also help enhance communications with field workers and improve team visibility. For example, Gruntify offers GPS tracking allowing operations managers the visibility to see where field teams are in real time.
Workflow Automation
Automating manual tasks is the secret success ingredient for many organizations. It eliminates human error and redundancies on the job, enhancing customer satisfaction. CMMS helps automate tasks such as scheduling shifts, assigning tasks by availability, ordering parts, compiling information for audits, and replenishing inventory to save time, improve productivity and reduce errors.
Asset Visibility
CMMS offers a centralized information database that allows maintenance teams and managers to have real-time data on asset activities. This helps them track and manage asset lifecycle and health. With an active status of your assets, you can better schedule, plan and perform work. In addition, you can also identify possible issues in the system resulting in frequent breakdowns. More recent advances in CMMS software use GIS & location data to drive asset management providing real-time location insights and opportunities for predictive analytics.
Reduced Downtime with Preventive Maintenance
CMMS software can alert maintenance managers when assets need proactive equipment maintenance. Maintenance doesn't have to be done when equipment breaks down: CMMS software can schedule preventive or predictive maintenance to prevent mishaps in delivery and production. Technicians can also report asset breakdowns on-site from their mobile devices, limiting the length of equipment downtime.
Compliance and Audit Management
With several compliance regulations from various organizations, it can be difficult to keep up with audits. Besides, compliance audits can cause disruptions to asset-intensive businesses and maintenance operations. And auditors don't like constant breaches of scheduled maintenance as it increases risks. However, a CMMS can streamline logistics by generating reports and responses tailored to an audit's standards.
How to Select a CMMS Software Solution
When choosing the right CMMS software for your team, it's crucial to consider both function and technology as well as support. A CMMS software solution should offer solutions to all your functional problems instantly. The technology must also be expandable to integrate with other maintenance functions like condition monitoring and IoT sensors.
CMMS software providers should also offer training and support services. Advancing the software adoption curve while trying out new features helps increase efficiency. You also need to ensure that the newer software is API-first, like Gruntify. This allows you to spend less time coding and dedicate quality time operating; automating time-consuming, repetitive tasks can help you streamline your business and maintenance operations.
Get Started With Gruntify
The advances in web-based software solutions and mobile technology have provided users with round-the-clock and on-the-go access to effective software solutions.
If you are looking for CMMS or asset management software that can help streamline and automate your maintenance operations, look no further than Gruntify. Our software solution is intuitive and easy to use and can be customized to fit the specific needs of any project, service or maintenance workflow. Request a Demo or Sign Up for a free trial today and see how Gruntify can help you improve efficiency and lower costs!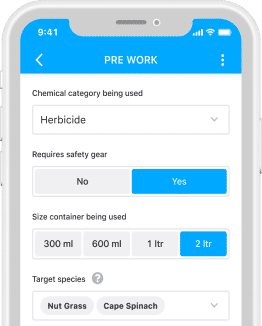 Digitize, integrate & automate your field operations with ease. Buy 9 and get 3 extra months free.