Staying on top of multiple jobs can be a constant struggle for executives and operational managers. Managing various jobs using spreadsheets, scrawlings on a whiteboard, and filing systems may seem simple at first, but in reality, it is disjointed. The more an organization takes on more projects and increases its workforce, the more ineffective these manual and paper-based processes become. That's where job management software comes in.
Job management software, a suite of online platforms, replaces manual and paper-based processes in managing job duties and responsibilities. When you utilize this tool, you can keep track of job progress, communicate with team members, and ensure the completion of tasks in a timely manner. When used properly, job management software can help streamline job processes and improve job organization.
So how can you use job management software to effectively manage jobs? Continue reading to find out.
Ways of Using Job Management Software for Effective Job Management
Here are some of the ways you can use this software can help you better manage jobs:
Automated Job Queue
Monitoring and ensuring that the right person performs each task before a deadline elapses can be challenging for managers, especially if done manually.
With some job management software, you'll have an automated job queue that enhances job management. An automated job queue makes "first come, first assigned" job scheduling possible. This way, you can offer jobs to multiple teams based on their skill sets.
It also makes it easier to complete priority tasks faster. You will simply change the priority settings to automatically redistribute the rest of the jobs on the queue. And if an employee is sick or on leave and won't be available, they will be simply ignored from the job queue. The task will be assigned to another person. It is also easier to set up planned jobs to meet your operational needs.
In short, with automated job queues, workers can focus on the important jobs of the day. They can also ensure that they aren't assigned jobs when they aren't available.
Access to Real-Time Location Data
Job management software allows you to track the real-time location of field workers, thereby enabling you to enhance communication and cut wasted time.
The maps in job management software can also help you locate assets, draw defects, and more, all while providing valuable location data. For instance, when you know the location data of every job, you can easily define a collection of assets.
Monitor Field Operations with Dashboards, Reports, and Analytics
Job management software provides you with real-time reports and dashboards. This way, you can stay in complete control of your KPIs and field operations. You can also easily pinpoint any problems in your field operations. This means you can flag any jobs that take too long to complete and try to develop a way to complete those jobs faster and more efficiently.
Additionally, you can identify which teams have issues completing their tasks and determine why and what measures you can take to enhance their productivity.

Check How Much Work Your Teams Have
With job management software, you can view how much allocated work your individual staff members have. This information enables you to determine where there are gaps or overloads in your upcoming work schedules.
Where there is an overload, you can assign some of the tasks to other individuals. This way, you can make sure to meet work deadlines. On the other hand, where there are gaps, you can assign more tasks to maximize the productivity of your staff.
Create Jobs and Manage Teams From Anywhere
The purpose of job management software is to give businesses and teams the ability to efficiently manage various projects and jobs. It does this by making it possible to track jobs, time, and costs and by facilitating collaboration between various teams.
A job management app can help even manage jobs and teams on the go. Some of these solutions provide advanced capabilities and cloud-based options, while others are more general-purpose. It is crucial to consider such factors when deciding the best solution for your organization.
Improved Team Communication
Job management software can streamline the communication between office staff and field operators. By integrating communications into your staff's devices, you will be able to send and receive notifications and messages all in one place.
Your field techs can receive reminders and updated job details on their mobile devices, then add notes and necessary documents on-site. They can also do this in areas that don't have signals. With these solutions, you won't have to wait for field operators to get back to the office to get things done.
Scheduling and Planning
Let's face it: scheduling and planning jobs is easier said than done. With so many variables to factor in to create a streamlined work process, it's easy to get things wrong when using manual job scheduling.
With job management software, you can plan jobs to the very next minute. You can check staff availability, plan for the future, and assign your employees jobs that fit them best. Whatever your organization needs in terms of planning and scheduling jobs, job management software has you covered. You can manage workload, work availability, hourly availability, and even schedule teams in other time zones.
Seamless Business Integration
By using a solution such as Gruntify, you can centralize and manage all jobs from one place. This will make your entire network traceable. All your employees, from your office staff to your field workers, will be connected on a single platform.
The Perfect Job Management Software for You
Try Gruntify, the cloud-based job management software that makes it easy to create a schedule for any task with just one click. You can quickly and easily match jobs by location or skill level, so you always have enough employees on hand at all times! Schedule thousands of jobs and attach asset and location data—in minutes. With this amazing next-gen CMMS, there's never been an easier way of managing your business needs. Sign up for free today – no credit card required!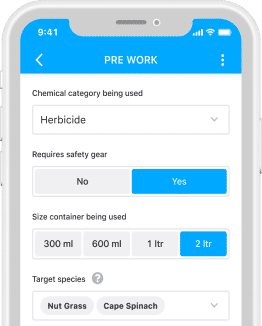 Digitize, integrate & automate your field operations with ease. Buy 9 and get 3 extra months free.