The field service sector is infamous for being sluggish in keeping up with technology. Before COVID-19, most companies were okay with managing field staff with paper or spreadsheets. And for most who had some sort of technology, data silos impeded workflow because only one department could access info at a time.
The Market Watch reported that the demands of the pandemic to do more with tech caused a significant change in field service management solutions. Businesses in field service management now realize that innovative technology means making work easier and saving time while improving customer satisfaction.
Here are the most sought-after features in field service management software in 2022, along with an ideal software that simplifies implementing a solid strategy to see tangible results.
How the Field Service Tech Landscape Looks Like in 2022
2022 field services management tech is designed to make things easier with features that solve the problems of field service management while meeting the current market needs. They include:
Mobile Video and Chat Capability
Mobile video calling and chat enable field workers to talk to multiple people at once to report on current activities from the field in realtime. They can ask questions, request info or tools, and share content as if they were all in the same room.
What's more, they don't have to record notes and share them later. Each video call can be recorded and safely stored for future referrals with just one click. These technologies also allow users to blur backgrounds so the call attendants can focus on the call.
They can share content on the screen for everyone to view and ask questions while clarifying what needs to be done.
The chat feature allows users to side chat with whoever they want to avoid disrupting speakers. In a nutshell, this software eliminates the distance difference to allow faster connections and seamless real-time communication.
Real-time Updates
Features such as GPS tracking, activity logs, analytics, and notifications help to keep staff, stakeholders, and customers in the loop with real-time updates.
Some types of automation can even help users change form field values without having to refresh the device to see the new changes.
The real-time aspect turns one-way broadcasts into interactive events between multiple people. Additionally, stakeholders have access to data that forms a solid foundation to make better decisions and address issues sooner rather than later.
Automation and Centralizing Work
Automation means doing less manually and improving accuracy. From work order schedule and delivery management to complete job workflow mapping and automation, top field management software automates these mundane actions to free everyone to do more and do it much faster.
You also get to manage upcoming orders before their due date, simplifying scheduling and delegating tasks to ensure projects are completed on time.
Most software also comes with analytics that allows managers to appraise staff performance, count the number of deliveries and work hours, and measure success.
Better automation solutions often provide build your own drag and drop workflow editors, replacing the need to hire developers or learn code. It saves the company money and time and offers more flexibility to decision-makers
Mobile Forms
Mobile forms present a wide range of benefits. For example, you can build your own form capability which includes using digital signatures, syncing forms across all web and mobile devices, offline capability for remote regions, and geo-enabled forms using location data.
You can have several workspaces with each one owning a form. Mobile forms are easy to publish on apps. Mobile forms also enable paperless signatures. They are easier to verify and any input data is much easier to safeguard.
Fleet Tracking
Integrated fleet tracking is beneficial on multiple fronts:
Providing accurate arrival status
You prevent material theft
optimize routes to preempt accidents and beat traffic
Save on fuel costs by identifying idle engines
Lastly, tracking your teams on the road with GPS from the same account used for field service management creates a more integrated workflow.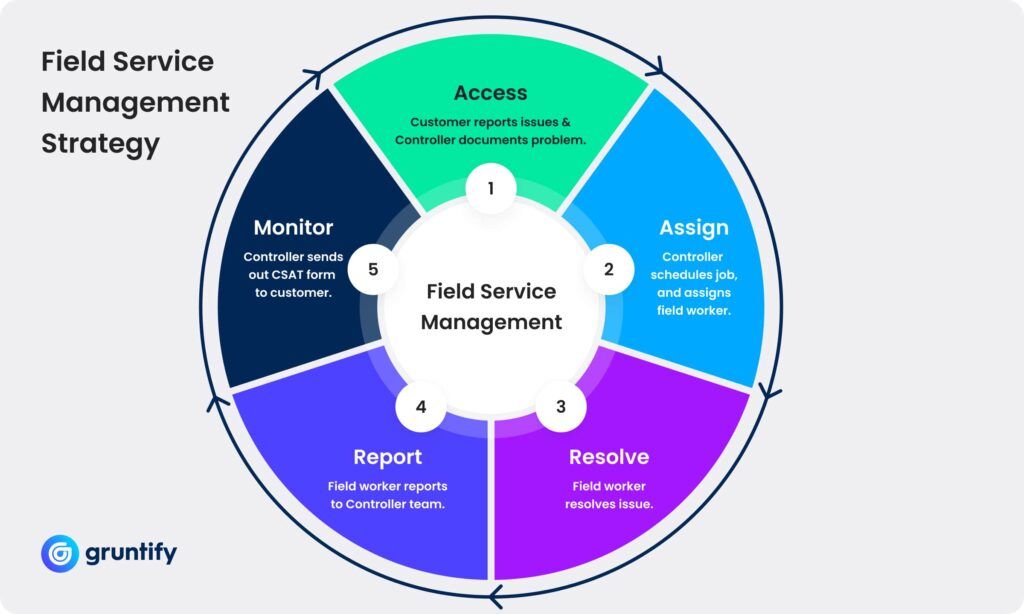 Key Considerations When Implementing a Field Service Management Strategy
A concrete field service management strategy focuses on delivering inexpensive, client-centric services while ensuring the morale and engagement of your field staff are at their optimum.
The best one also seeks to strike an equilibrium between maximizing your resources while maintaining high customer satisfaction. To execute this strategy, you need to consider:
Digitizing and Centralizing All Processes
Everything begins with digitizing your processes and having them on a central location. You'll sleep better at night knowing that everyone on the team has access to info about roles, suppliers, clients, and materials. It eliminates project delivery delays and reduces friction between office and field staff.
Costs
A sound strategy must reveal areas that save the business operational costs. Therefore, finding an innovative solution that provides info into tools and resources allows your business to plan on preventative maintenance, order equipment beforehand, and schedule jobs in advance.
Providing Personalized Customer Experiences
Customer satisfaction runs the modern business world. Luckily, we have software that offers real-time reports and analyses. This information makes it possible for the field staff to fine-tune the service offering to boost customer satisfaction from one customer to the next.
Involving Customers
Customer involvement in your field service delivery is imperative and affects your entire strategy. You earn more points on customer satisfaction when you grant your customers visibility on project implementation. It gives them a unique chance to share their views and build trust that's essential for calling you for a second, third, fourth, and more times.
Allow Your Staff to Make Decisions
Before field software, field staff pretty much had their roles defined. It was all about going to the site, doing the job, answering the customers' questions they could, and calling it a day.
It is better for everyone if field staff could do more. For example, they can collect invoices, share customer feedback, and even recommend more services. Instead of being the guy with the tool, they can carry the company image and instill a positive brand image to clients to give you an edge over your competitors.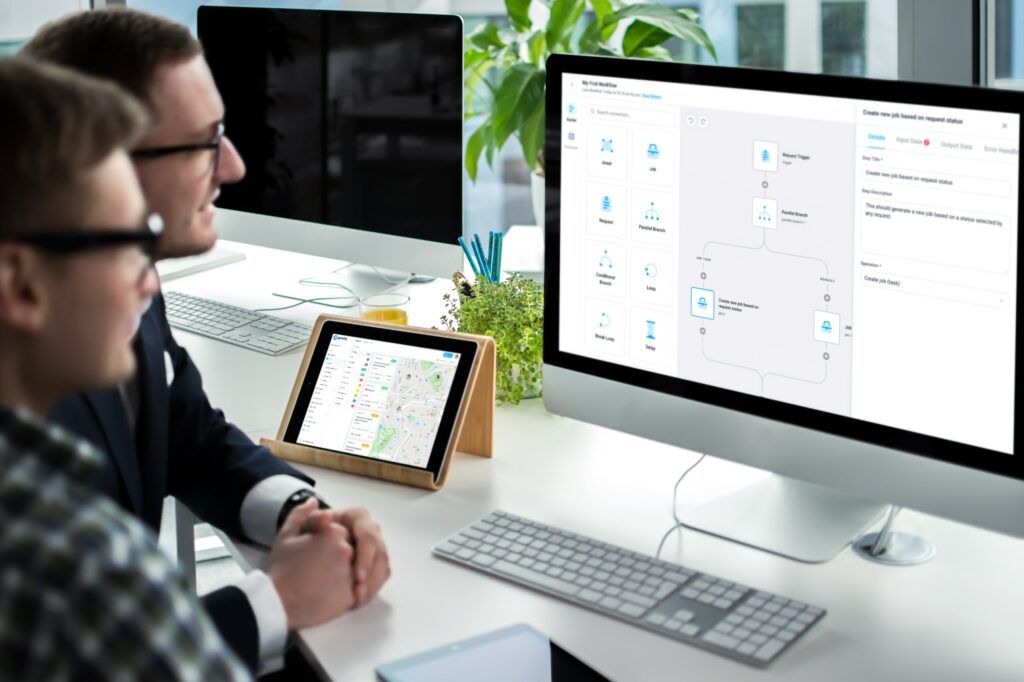 How Gruntify Helps You Implement This Strategy
Finding a field management software that helps you execute this strategy would be like finding the golden goose, wouldn't it? Well, Gruntify is a field service management software that was built to meet the needs of the modern field services era. Here's what you get when you use Gruntify:
Intelligent Job Scheduling
Gruntify provides job management and scheduling to save you time and eliminate errors. You also get to schedule your planned and preventative tasks while leaving room to include urgent tasks.
Better yet, the data allows you to involve your customer in the project. With a dashboard and real-time map, you can manage everything on-site and stay one step ahead of any issues.
You also get intelligent job scheduling and allocation. For example, the automated job queue allows you to allocate jobs to several teams who are most qualified for them. And when you have an unforeseen priority job, you can just switch the priority and the queue is reset in a new order.
Asset Management
Gruntify uses powerful GIS technology to drive asset management. This means all your assets can be set up to use spatial data, replacing the need to use or integrate with third-party GIS software.
Eliminating the need for integration helps you avoid the security vulnerabilities introduced by multiple integrations and the hassle of performing upgrades and the costs that come with it.
GIS also allows you to track operations as you maintain your asset strength. GIS can analyze and gather various assets to identify similarities, disadvantages, and trends. That way, you can preserve and optimize materials and spatial location.
Workflow Automation
Easily map existing business processes with Gruntify's Workflow Studio. This drag and drop workflow builder maps and automates your existing BP.
This studio helps you build workflows that automate your entire field operations, eliminating manual entry and repetitive tasks to create a lean, mean automated field machine.
Reap the benefits of workflow automation such as error-free reports, cutting back on the hours and resources, and real-time tracking with dashboards and reports.
Location Data Core
Location data and GIS is at the core of everything Gruntify does, providing unparalled operational insights and predictive analytics.
You can identify problems, monitor change, manage and respond to events, set priorities, and understand trends. Location data is more actionable than data without any spatial context, enabling you to rapidly improve business outcomes.
Inspections & Checklists
Gruntify allows you to run a simple inspection workflow, driven by mobile forms and location data. You can conduct inspections and gather field data easily using an intuitive iOS or Android app that works online and offline.
Field workers get to capture media, annotations & signatures and use Gruntify to add different media (photos, video, and audio)
The mobile forms can be shared with maps to be used online and offline and field employees can easily locate one another.
Automate All Your Field Service Operations With Gruntify
Gruntify is a field service management software that helps businesses manage operations more efficiently using automation and location data, improving operational insights, and increasing worker and customer satisfaction. Request a demo of Gruntify today to see how it can help your business streamline field service!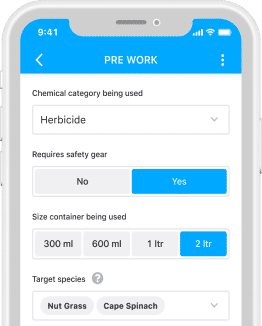 Digitize, integrate & automate your field operations with ease. Buy 9 and get 3 extra months free.